BERLIN, Germany – Geovanna Gonzalez, 25, wants to be an artist. She sips wine slowly from a glass in her right hand and says, "I want to explore the tension between what's synthetic and what's real." Her purple lips exude a soft, sweet only slightly alcoholic odor. "The opposition between what is plastic, technological and produced by human hand and nature", she adds.
She holds a degree in Fine Arts from Otis College of Art Design in Los Angeles. At some point she realized there was no place for her there. She had heard about a Bohemian artist's oasis in the center of Europe. A home away from home for the weirdos and the undesirables who treated life like it was a cabaret from the 1920s. She heard about a city where young people could express themselves and make art, avoiding nine-to-five jobs and still making enough money to pay for rooms and travel. So, a year ago, Geovanna Gonzalez moved to Berlin.
In Berlin, Geovanna works as a pastry chef in an American restaurant for three days a week. She works for $9 an hour and that's enough to pay for the apartment she shares with three friends in Kreuzberg, a renowned "hipster" neighborhood in the city. It also covers the rent for the studio where she paints. Her job at the restaurant is what the Germans call a "mini-job", a employment that doesn't exceed $515 a month, but is exempt from taxes and social insurance payments. This system has been criticized for its precarious nature. Some think it can even be a trap, preventing workers (especially young ones) from finding better jobs. In 2013, one in five Germans was a "mini-jobber".
For Geovanna a "mini-job" means she doesn't have to depend solely on her art to make a living and she still has time time to create. "If I had to dedicate myself exclusively to art, the financial pressure would affect the creative process", she says. A pressure-free environment was another thing she found in Berlin. "Berlin is very relaxed. In LA, you're either on top or at the bottom. There's no room in between. You're either a student or a very successful artist selling your work for $10,000 a piece", she says. Berlin's laid-back way of life was perfect for her. "I'm not so afraid to do what I want to do. I do not question myself so much. I gained this confidence and I know that I will take it with me wherever I go."
In the American restaurant where Geovanna works, she met Eva Gonçalves, a Portuguese designer. In the same place, the two befriended an Israeli musician, a Frenchman who wants to be a photographer, a Pakistani who studied design, a Spanish interior designer, a Lithuanian dancer, a Canadian guitarist and an English poet. In Berlin, it's unusual to hear someone speak German. In the last three years, more than 205,000 people imigrated to the capital, most of them younger than 40.
A trap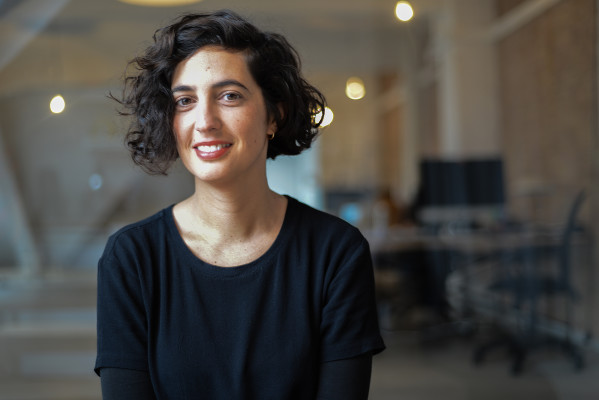 Eva Gonçalves came to Berlin for an unpaid internship in January of 2010. For a long time she worked in the American restaurant where she met Geovanna. At the same time, she began building her career as a designer, working in advertisement and illustrating books and magazines. Earlier this year she quit her job at the restaurant because she felt her work as a designer was solid enough that she could pay the bills with it. Eva thinks she makes between $1100 and $1700 per month and for her that's more than enough to have a good time in Berlin. She just found an apartment where she'll live alone and that will cost her, expenses included, $560 per month. Since she makes less than $2200 a month, she has access to a healthcare plan that includes yoga classes and acupuncture sessions – she considers German healthcare to be "amazing" –  for $205 per month. For transportation she uses a bike, like almost everyone in Berlin. Every month, the German government gives $400 to Eva's pension fund account, because she's now protected by the Künstlersozialkasse, a financial aid program for artists who don't have enough money to account for retirement plans.
On the financial side, Eva feels safe in Berlin. But the laid-back style can be too much. "Sometimes I get tired," she says."There's always a party. It's a city that always wakes up after 10pm."
Eva tries to go out only twice a week and work eight hours a day but she says, "It's hard to keep the balance". The designer thinks that beneath the bohemian spirit of Berlin lies a fierce competition that's getting fiercer. And it's easy to lose the drive of the artistic dream, she thinks.
"It's not difficult to get to a point where you're relaxed because of the mini-jobs and the state aid, but you can lose motivation to do more". All of this makes eva wonder if berlin really is a trap.
Germany's Greece
Noel Nicolaus is currently pursuing his PHD at Humboldt University where he studies migration within Europe during the current crisis. He chose Berlin as his case study to try to explain why a city that's among the poorest in Germany attracts so many imigrants, specially from the south of Europe.
"Berlin is Germany's Greece", he says in order to explain the financial situation of the German capital. Historically, Berlin's unemployment rate has always been higher than elsewhere in the country. "There's no money in Berlin", he goes on, concluding that the imigration to Berlin can not be explained by traditional reasons. "Those who want a better life go to Stuttgart or Hamburg. They don't come to Berlin".
Used as a showcase for two conflicting ideologies after World War II. Berlin's prosperity was artificial. On the east side, all the industries were financed by the German Democratic Republic. On the western part – where conscription was lifted as a way to attract younger people from all the Federal Republic of Germany – large amounts of money and subsidies were distributed by Bonn.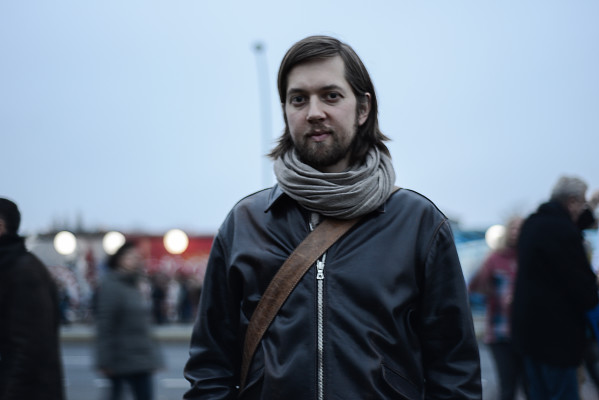 After the fall of the wall in 1989, the vast majority of the inhabitants in the eastern part, moved to the west, leaving behind about 200,000 empty and decaying buildings and bankrupted industries. Independent artists and activists squatted in many abandoned buildings and factories, turning them into cultural spaces complete with movie theaters, bars, and rehearsal rooms for musicians and dancers. One of the most famous, the Tacheles, which hosted artists such as choreographer Sasha Waltz and musician Nick Cave, was sold in 2012 to make way for an apartment complex.
All through the 1990s, Berlin continued to attract the outcasts, the hippies, the poor artists from around the world. In the early 2000s, the new mayor of the city, Klaus Wowereit, decided Berlin should profit from this natural magnetism, selling the coolness of the city in ads and tourist brochures. Wowereit called Berlin "poor but sexy" and launched a new brand that tried to market the underground culture that made the city such a unique place. "Berlin is not like New York or London, but it's the underdog, the creative alternative," he continues, explaining that this strategy was based on Richard Florida's "creative class" concept. Florida defended that, in order for cities to regenerate and develop economically, they would need to be able to attract such a creative class – scientists, engineers, artists, professionals in the cultural industries, health, law and management areas.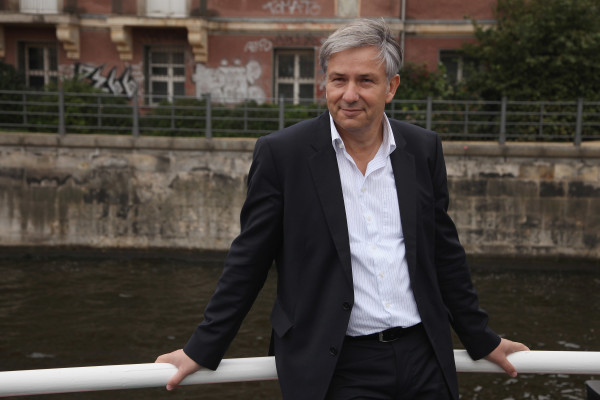 This strategy partially explains why imigrants from southern Europe feel attracted to Berlin. But Noel thinks that this image of Berlin as "poor but sexy" has served its mission, attracting masses of tourists, multinationals and investors who want to buy public land, which, he and others argue, encourages the gentrification process.
Some of the most disputed areas in Berlin are the banks of the river Spree. In the early 1990s, the city government tried to solve the $80 billion debt by selling the abandoned lands in this area.
One of the projects planned for this area became known as Mediaspree, a major investment that aims to renovate the urban space along the river, attracting media and telecommunications companies and modifying the architectural landscape of the site. After the fall of the wall there wasn't enough money to implement the project, and it was temporarily put aside. In the 2000s, it finally took off. In 2008, Berlin inaugurated O2 Arena, a huge sports and entertainment hall near the river, in the east side gallery, an open space public gallery that preserves 1.3 km long section of the Berlin Wall. Thousands of protesters gathered at the opening night to express their discontent.
Opponents of this project of the reconstruction of Berlin's waterfront are known as "Sink Mediaspree" and carry out several protest actions against the plan that they accuse of destroying a historical area. In September 2008, the Mediaspree opponents won a local referendum with 87% of participants voting against further changes in this area. While the vote does not have legal consequences, the movement "Sink Mediaspree" won the sympathy of some Berlin politicians.
On Sunday, November 9th, while the official celebrations of the 25th anniversary of the fall of the wall took place by the Brandenburg gate, a group of urban activists protested in the East Side Gallery. They were against the selling of public lands in this area of town and the destruction of parts of the remaining wall. One of the organizers of this event, Dr. Motte, a well-known Berlin DJ and founder of the iconic Love Parade, explained that these activists are trying to fight against the privatization of public lands in order to build "luxury condos" and offices for multinational corporations. One of the slogans used in the protest was: "The wall has to stay. "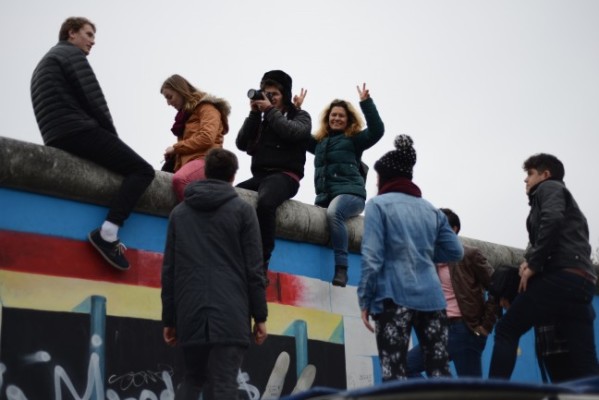 Noel Nicolaus, who sees himself as an urban activist, thinks that, right now, Berlin has to choose between two paths, but he fears it's already opted for one clear direction. "Berlin is more competitive than it used to be. It's getting too focused on the business side", says the researcher, who thinks this change might affect the very thing that allows the city to attract people from all over the world.
The imigrants he studies for his PHD are facing an increasingly "competitive environment in a very fragile market" – the artistic and cultural market. "Only a minority can succeed," he says. As for the rest, he thinks the majority lives in "a bohemian lifestyle bubble."
Noel thinks of Berlin as a "Neverland". A city where many end up trapped in endless parties or at nightclubs like Berghain, which opens on Friday evenings and closes Monday mornings and is famous for long lines, drugs, and sex. Just like Eva, Noel too says he's fed up with Berlin. "I'm sick of this empty pretentiousness. What does all this freedom produced? There was no cultural renaissance. Nothing. Only a party utopia." More than ever, Berlin is becoming a "city where no one stays too long." And then, Noel comes up with the the phrase that says it all: "Berlin, the city of broken dreams."
7' 50''