TOVARNIK, Croatia – The refugee crisis is a struggle that's in transit, a movable skirmish. Refugees are held in check as if forever, then moved along from border to border. When they are forced to sit, they are so exhausted they can hardly picture a next stop. They stall and assemble some small symbols of normality.
They will start over tomorrow. They hardly unpack their bags.
On Saturday, in Tovarnik, the first Croatian town after the border with Serbia, men sat, perfectly lined in a row that stretched for many miles. The women strolled around the tents, picking up donated food and warm clothes. The children played soccer.
Volunteers in yellow traffic vests handed out bottles of water and tiny pieces of paper with the English and German words for: "I'm hungry." When the buses arrived in Tovarnik no one stepped in front of the line for the entire day.
Until Monday this makeshift camp held more than 4,000 refugees. After the chaotic scenes of the last days, when thousands of refugees desperately tried to get a seat that would take them to Western Europe, some order was finally restored amid the chaos in this rural Croatian village.
But then things changed. On Monday evening, the camp was completely empty, as if what had happened here days before had been nothing but a dream.
Some members of the UN's refugee agency and the Red Cross in Tovarnik said everyone was taken to a registration camp in Opatovac, seven miles from Tovarnik and then taken to Hungary.
Ahmed was one of those refugees waiting patiently in line to board the buses arriving at Tovarnik on Saturday. He told Mashable he has been homeless for nine months, since he left his house in Iraq, running away from Islamic State (ISIS). When the bus came for him, he was eager to go, even though he was really afraid he would be taken to Hungary.
"They cannot force me to take the finger scan in Hungary," he said, daringly, while standing straight in line. When the police finally told him to enter the bus, he tried to stay calm and disciplined, but he didn't manage to hide his excitement. Ahmed rushed as if he wanted to run and waved his friends goodbye. Where is he now?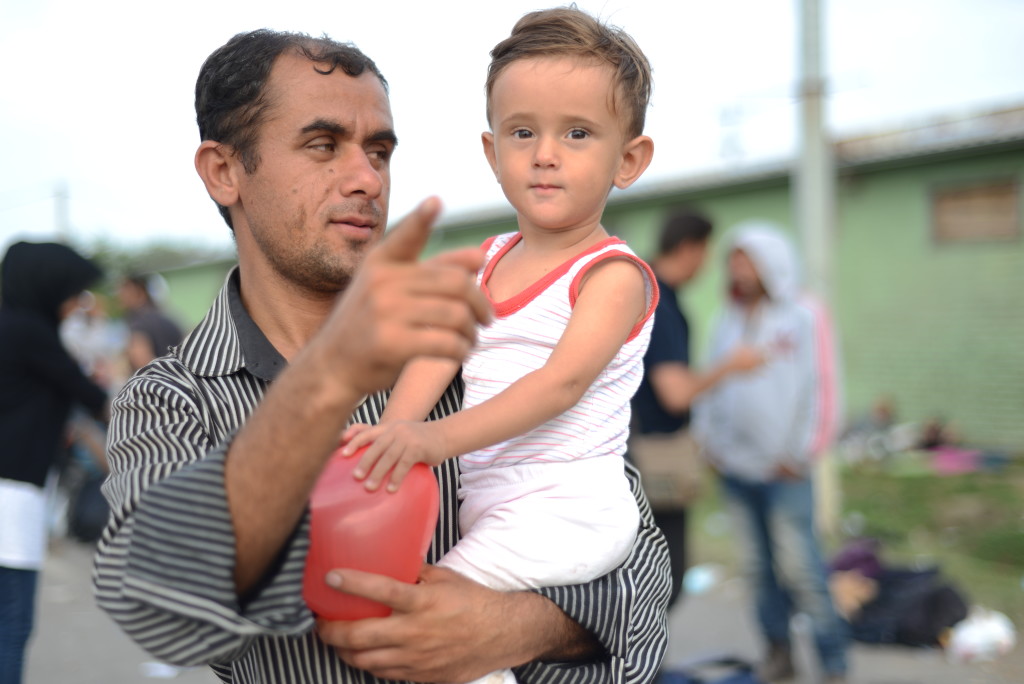 A kilometer from the bus on Saturday there was another line of refugees, waiting for the train. The police called for the children, the women and the families first. The majority of the people waiting here were young men with no family.
Marwa, a 20-year-old pregnant with her first child was about to board with her husband. The couple came from Aleppo and they couldn't stop smiling and jumping with excitement by the prospect of taking a train that would leave them closer to Germany, their dream destination. But maybe they're stuck in another makeshift camp somewhere else.
Even the 18-year-old Syrian from Aleppo who was sad for being on the end of the row on Saturday, told us that she just wanted to leave Croatia behind.
"Syria is destroyed. I can't go back. I loved it so much. And I hate it here. I just want to get out," she said. She has finally left.
In just a few hours, they all disappeared, along with the tents they helped setting up and the children's playing areas they built.
Maybe some chose other options. There was a rumor around the camp that some were paying cab drivers for a journey to the next border. Juhasz Tamas, a 35-year-old who came all the way from Budapest to help, told Mashable the refugees would usually ask him about that.
"I tell them what I know — cab drivers take money from people (usually 50 euros, $56) and then call the police. The police bring them back here," he said.
There are a lot of stories of taxi drivers smuggling refugees and deceiving them. "There was a group in Budapest that even stole a sign that said Budapest and used it to trick the refugees into thinking they had arrived there," Tamas alleged.
Muhammd, who was also in line for the bus, said he'd paid smugglers around $3,000 to come to Croatia. He sold his house in Damascus and got enough money to set on the journey. His wife and his 8-month-old daughter are back in Damascus and he hasn't heard from them since he left. His cellphone was ruined when the rubber boat he took hit a rock. The whole group of 35 people nearly drowned, but they all knew how to swim
Muhammd told Mashable he has given up on Syria and now, all he cared about was getting to Germany and getting his family there too.
"I'm looking for a homeland. I'm fed up with Syria. I don't care about that country anymore," he said, resentful.
Without a home to go back to, Muhammd is only waiting for the time when he can build another one. Back in Syria, he studied English Literature. In Tovarnik, to avoid the despair of not knowing where he was going, he told Mashable he used to think about one of his favorite authors, interpreting him in his own fashion.
"I love Beckett. Waiting for Godot… That's what we're all doing here. We're waiting for Godot and he's either our savior or our death. But that's okay. We were slowly dying in Syria. There's no problem if we die faster here."
3' 40''